My project Ostracon (John Keston and Graham O'Brien) was accepted and performed at the In/Out Festival of Digital Performance in New York, September, 2010. Ostracon performs generative, improvisational compositions using my custom software, the GMS (Gestural Music Sequencer), that converts video input into musical phrases. I capture, layer, loop and process melodic segments in real-time out of the stream of notes created by my gestural input, and tailor them with probability distribution algorithms. O'Brien accompanies these angular, electronic structures, with dynamic playing that, at times, verges on the chaotic.
The lineup this year included Monome creator, tehn (Brian Crabtree), and Peter Kirn of Creative Digital Music. From the In/Out Festival website.
In/Out is an annual festival that features leading performers, developers, artists, and tinkerers of the digital design community in hopes bridging the gap between the forum based world and the stage. The festival seeks to bring digitally driven performances into the limelight with two full days of workshops and performances.
This video above is a live studio piece shot by Ai student Josh Clos, and recorded at Ai Minnesota by John Keston and Graham O'Brien. It's representative of the music that we are generating during our live performances. For more visit the Ostracon tag on AudioCookbook.org, or visit Unearthed Music.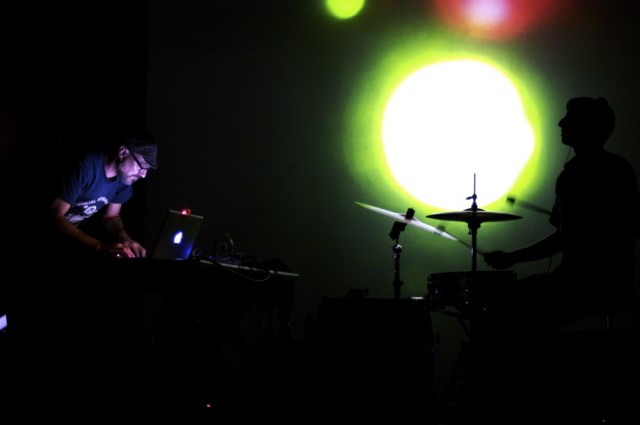 Ostracon at the In / Out Festival of Digital Performance.